Custom Wedding Postage - A special touch for your wedding invites!

You may have already seen one show up in your mailbox. If not, you will soon. Personalized wedding stamps add the "wow" factor - and brides across the country are taking notice.

Since the Post Office allowed customized stamps, thousands of brides across the country have stamped their invitations with their own personal touch.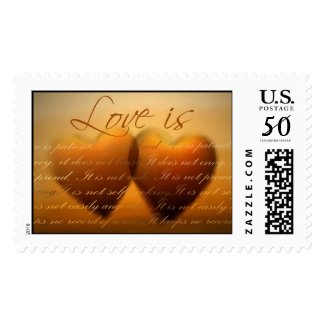 So where do you find great wedding stamps?

The USPS website has several wedding stamp designs - the 44 cent wedding rings and the 61 cent wedding cake stamp.


With this ring ... Here is the 44 cent stamp with two gold wedding rings. Photographed by Renée Comet of Washington, DC, the rings rest on a small white pillow united by a slender ribbon of white silk.





3 tier Wedding Cake Stamp -

The 61 cent stamp features a wedding cake with intricate scroll design on the fondant. Sure to add a touch of beauty and romance to wedding correspondence, the 2009 Wedding Cake stamp is issued at the two-ounce mailing rate in order to accommodate the heavier weight of an invitation.

You should be able to find these at your local post office. If not, call toll-free at 1-800-STAMP-24 begin_of_the_skype_highlighting 1-800-STAMP-24 begin_of_the_skype_highlighting 1-800-STAMP-24 end_of_the_skype_highlighting end_of_the_skype_highlighting or shop online.

If these don't suit your taste, you do have options.

Create your own or choose a pre-designed stamp from thousands on the web. When choosing a custom stamp, you'll pay a bit more. A sheet of 20 1st class 44 cent stamps from the post office is $8.80. A sheet of 20 custom stamps from Zazzle runs about $18.00 when you buy in bulk (10 sheets or more). If you buy only one sheet, the price goes up to anywhere from $19 to $22. If the cost of custom postage for ALL your invitations is out of reach, you can purchase just one or two sheets for special wedding guests. (Note to scrapbookers: one sheet of stamps fits perfectly in a standard scrapbook page.)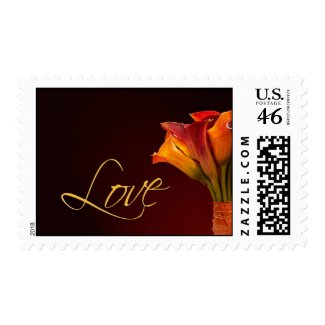 There are thousands of beautiful postage designs available - one sure to match your colors, flowers, monogram or even destination! Many graphic designers will work with you personally to create that special look that will make your envelope pop.

Colorful calla lily love from Perfect Postage is one example of customized postage. This vibrant gold, orange and red calla lily bouquet make a dramatic postage stamp.
No matter what your theme, colors or design, you can have the "Perfect Postage" for your wedding correspondence.